Biofeedback…. 4 PETS ALSO !!!!
Can animals benefit from Biofeedback therapy?
If only pets or even larger animals could talk, what would they say about their lives with their human companion and how they feel?  The ability to tap into the subconscious with Quantum Biofeedback is remarkable and also extremely valuable when working with non-verbal clients.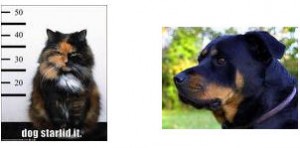 This method of assessment and treatment of stress and imbalances within the anatomical physiological and emotional state is truly one of the best methods for determining "dis-ease" in the body, mind or spirit. The non intrusive, non invasive approach is by far the most symbiotic method for helping our animal companions.
HOW IS IT DONE?
No matter what size or species of pet you have, Diane is able to work with them.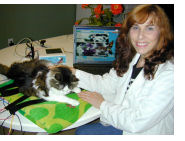 Here she is with Lucy:
This is done through the ideal combination of the SCIO, energetic healing and animal expertise. Transmitting through carbonized rubber pads placed under the pet or on his back or sometimes limb (depending on the animal and condition) the SCIO scan detects anomalies, stressors and physiological factors causing sickness or abnormal behaviours. It is then brought to the awareness of the pet owner and the practitioner, through animal-designed therapies, and attempts to balance energy and stress patterns including specific conditions.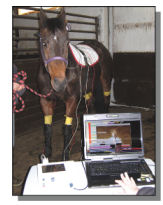 It is a painless test using an energetic device. Not only do the animals respond to the frequency sessions they also enjoy the energy communication and transfer. They readily accept the technology offered and don't hold any disbelief about the method.
THE RESULTS
Pet owners have seen vast behavioural improvements and increased vitality in their animal companions following Quantum Biofeedback therapy.
A session in our office is about one and a half hours.  The fee is $100.
Diane offers at-your-home sessions for $150 within a 20 km range.

We also offer special "Herbal remedies" for pets and other animals called "Pamper Pooch"; they are completely natural and made by a local herbalist and pet lover.